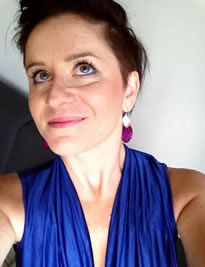 Anna Lewanowicz
Arts Manager(Poland)

Krakow Theatrical Reminiscences, Festival Director
Residency Period: from 3 February 2014 to 8 March 2014
■Research Outline
| | |
| --- | --- |
| Research Theme | Contemporary performing arts as a reflection on contemporary society |
| Brief Description of the Research | Anna Lewanowicz researched contemporary theater and dance of Japan with an aim to change the perceptions of performing arts of Japan in Poland, and she had conversations with artists and arts managers in Japan in order to present Japanese artists in Krakow Theatrical Reminiscences and Dance Move Cities. |
■Residency
3 February 2014
Arrives in Japan
4 February 2014 to 7 March 2014
-Interviews artists and arts managers in Japan
-Visits Kyoto, Kobe and Yamaguchi
-Attends performances at TPAM in Yokohama, Kobe-Asia Contemporary Dance Festival and other theaters
7 February 2014
Public Talk at Morishita Studio
8 March 2014
Departs Japan
■Public Talk
Date
7 February 2014
Time
19:00-20:30
Place
Studio B, Morishita Studio
Title
An overview of Polish art scene on an example of Krakow.
Anna Lewanowicz gave a presentation on the current situation of culture in Poland with the example of Krakow, as well as Krakow Theatrical Reminiscences and emerging artists in Poland.
■Profile
Anna Lewanowicz
Born in Poland
Anna Lewanowicz studied classical philology at Wroclaw University. She worked at the Brave Festival from 2005 and 2008 as a managing director and produced an international festival, The World as a Place of Truth, which marked the 10th anniversary of Jerzy Grotowski's death at the Grotowski Institute in 2009. She worked at Krakow Theatrical Reminiscences as an associate festival director in 2010 and has been a festival director since 2011. In addition, she was a member of a programming council for the Plenary Meeting of IETM in 2010 and became a board member of Atelier for Young Festival Directors organized by European Festival Association in 2012.