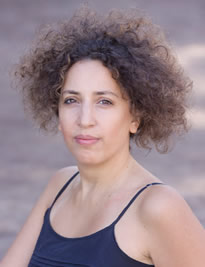 Cynthia Edul
Arts Manager(Argentine)

Program Director, Panorama Sur, Playwright and Fiction Writer
Residency Period: from 6 July 2015 to 4 August 2015
■Research Outline
| | |
| --- | --- |
| Research Theme | Network, connections and collaboration projects Japan-Latin America |
| Brief Description of the Research | Cynthia Edul aimed to build artists' network between the Japan and Argentina to set up projects to promote artistic collaborations, and she explored the possibilities of networking between Japan and Latin America, During her residency, she met young playwrights and theater directors, as well as mid-career artists to expand her network, and she discussed the possibilities of the co-production and collaborations for the future. |
■Residency
6 July 2015
Arrives in Japan
7 July to 3 August 2015
Interviews artists and arts managers in Japan
Attends performances at Echigo-Tsumari Art Triennale and other theaters
Visits Kyoto, Osaka, Kobe, Shodo-shima and Echigo Tumari
8 July 2015
Public Talk at Morishita Studio
4 August 2015
Departs Japan
■Public Talk
Date
8 July 2015
Time
19:00-20:30
Place
Studio B, Morishita Studio
Title
Argentinean Scene in the context of the Latin-American Region. From the 90's till today. Aesthetics: Tendencies and Tensions. Cultural Management and New Ways of Organization.
Cynthia Edul gave a presentation on the scene in Argentina from 90's till today and talked about the issues regarding the aesthetics, management and organization in Argentina with an introduction of Panorama Sur.
■Profile
Cynthia Edul
Born in Argentina
Cynthia Edul studied literature at Universidad de Buenos Aires. After her graduation, she started her career as a playwright. In 2010, she established Panorama Sur and has work as a program director. She is a president of The Asociacion para el Teatro Latinoamericano and a lecturer of Universidad de San Andres. As being part of the jury of Zurcher Theaterspektalel in 2013, she has extended a wide network of international festivals in the world. She won the grant of the International Writing Program of the University of Iowa in 2014.