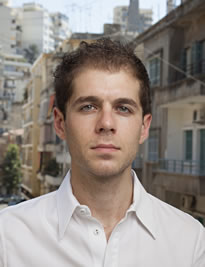 Eyad Houssami
Artist(Syria, United States and France / Lebanon)

Director and Writer
Residency Period: from 9 August 2014 to 26 September 2014
■Research Outline
| | |
| --- | --- |
| Research Theme | From the Page to the Stage: New Playwriting from the Margins in Japan |
| Brief Description of the Research | Eyad Houssami researched arts activities of minorities who face barriers due to age, gender, sexual or cultural identity, with themes and issues discussed in contemporary Japanese theater. During his residency, he interviewed playwrights, directors, translators and arts managers. He met and created a network with nonprofit organizations which work together with foreign residents and/or day labors, and he finally held workshops to consider performing arts from Diaspora. |
■Residency
9 August 2014
Arrives in Japan
10 August 2014 to 25 September, 2014
Interviews artists, arts managers and organizers of nonprofit organizations in Japan
Visits Kyoto, Osaka, Kobe and Toyama
Attends performances at SCOT Summer Season and other theaters
5 September 2014 Public Talk at Morishita Studio
20 and 21 September 2014
Workshops at Morishita Studio
26 September 2014
Departs Japan
■Public Talk
Date
5 September 2014
Time
19:00-20:30
Place
Studio S, Morishita Studio
Title
Doomed by Hope: Making Theatre with Masrah Ensemble in Beirut
Eyad Houssami gave a presentation on the collaboration and process and how his work with Masrah Ensemble has been an effort to explore both these elements of theatre making in the Arab world shaken by the political and social changes after the Arab Spring with reference to his work.
■Workshop
Date
20 and 21 September 2014
Time
14:00-17:00
Place
Studio S, Morishita Studio
Title
Performing Arts from Diaspora
Eyad Houssami held two-days workshops to consider performing arts from Diaspora to share its stories and information in relation to formal and informal theater activities of linguistic minorities.
■Profile
Eyad Houssami
Born in the United States
Eyad Houssami majored in theater studies at Yale University. After his graduation, he moved to Damascus, Syria and Beirut, Lebanon to conduct theater practice as a director and writer. In 2011, he established Masrah Ensemble and carry out "Triangles", a series of workshops and reading performances across Amharic, Arabic and English with artists in the Arab world. He was an editor of "Doomed by Hope: Essays on Arab Theater", which depicts connections between contemporary theater and social changes, published by Pluto Press.