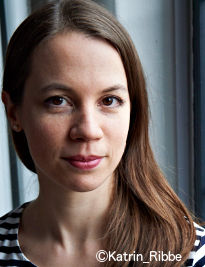 Martine Dennewald
Arts Manager(Luxembourg / Germany)

Artistic Director, Festival Tehaterformen
Residency Period: from 19 October to 15 November 2015
■Research Outline
| | |
| --- | --- |
| Research Theme | Japanese Theater in Europe issues of cultural transfer and traslation |
| Brief Description of the Research | Martine Dennewald aimed to gather a maximum of knowledge about Japanese theater in the wider context of the Japanese art and culture. During her residency, she met Japanese playwrights and theater directors to see the actual development of their work such as production modes, rehearsal processes and aesthetic choices, and she considered the possibilities of inviting them to Festival Theaterformen in the coming years. |
■Residency
19 September 2015
Arrives in Japan
20 September to 14 November 2015
Interviews artists and arts managers in Tokyo
Attends performances at Festival / Tokyo and other theaters
Visits Kyoto to meet artists and arts managers
11 November 2015
Public Talk at Morishita Studio
15 November 2015
Departs Japan
■Public Talk
Date
11 November 2015
Time
19:00-20:30
Place
Studio S, Morishita Studio
Title
Our Common Futures Asian Theatre at Festival Theaterformen, Today and Tomorrow
Martine Dennewald gave a presentation on the challenges and opportunities of curating a program of Asian and particularly Japanese theatre for German audience with a particular focus on Festival Theaterformen.
■Profile
Matine Dennewald
Born in Luxembourg and work in Germany
Martine Dennewald gained a degree in Dramaturgy from Hochschule fur Musik und Theater Felix Mendelssohn Bartholdy" Leipzig and studied for her Master of Arts in Arts Management at City University, London. After her graduation, she started her career as a dramaturg at Kortars Dramafesztival Budapest and Schauspielhaus Zurich. She worked for Young Directors Project of Salzburg Festival as a curator and worked for Kunstlerhaus Mousonturm as a dramaturg. Since August 2014, she has worked for Festival Theaterformen as an artistic director.