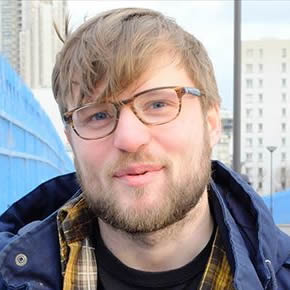 Maxime Kurvers
Artist(France)

Director
Residency period: 26 January, Sunday - 16 February Wednesday, 2020
■Research Outline
| | |
| --- | --- |
| Research Theme | Theories and practices of acting (1428-2020): the Japanese part. |
| Brief Description of the Research | He researched on acting and the role of the performers in traditional Japanese performing arts as part of the creation of his new work, "Theory and Practice of Acting". The work is based on the idea of ??using a global acting theory discourse as a database, asking questions about the roles and figures of actors in theater. It covers modern and contemporary theatre, as well as traditional performing arts and modern theatre in other countries and regions. During his stay, he interviewed Noh actor/ress, craftsmen of Noh masks and researchers of Noh and contemporary theatre. Also, he inspected Noh, Kagura and Dengaku to deepen his understanding of traditional Japanese performing arts. |
■Residency
26 January 2020
Arrives a Morishita Studio
27 January – 19 February 2020
Interviews Noh actor/ress, craftsmen of Noh masks and researchers of Noh and contemporary theatre.
Visits Iwate, Shiga, Hiroshima, Shimane to see Noh and Kagura performances
Visits Sizuoka to see Dengaku performance
Meets artists and arts managers
18 February 2020
Public Talk at Morishita Studio
19 November 2020
Finishes residency
■Public Talk
| | |
| --- | --- |
| Date | 18 February, Tuesday, 2020 |
| Time | 19:00-20:30 |
| Place | Morishita Studio, S studio |
| Title | "Theories and practices of acting (1428-2020): the Japanese part" |
Brief Description of the Public Talk:
Along with the concept of "Theory and Practice of Acting (1428-2020): Japan", he gave a presentation to introduce the research process and outcomes of acting roles of performers in Japanese traditional performing arts. After the presentation, Taro Yokoyama, a professor of Rikkyo University, was invited as a guest to discuss about traditional Japanese performing arts.
■Profile
Born in 1987 in Sarrebourg.
He follows theoretical studies in performing arts in Strasbourg University and joined the stage design class in the school of the National Theater in Strasbourg. Since he was at school, he has worked as an assistant director for Jérôme Bel, and after graduating, worked on many stage designs for his theatrical works. In 2015, he presented "short pieces 1-9" as a director. His" Dictionary of music" and this "The birth of tragedy" were performed at The Paris Autumn Festival in 2016 and 2018 respectively. In Japan, "The birth of tragedy" was performed in Theater Commons 19. Since 2016 he has been an associate artist at La Commune centre dramatique national Aubervilliers.